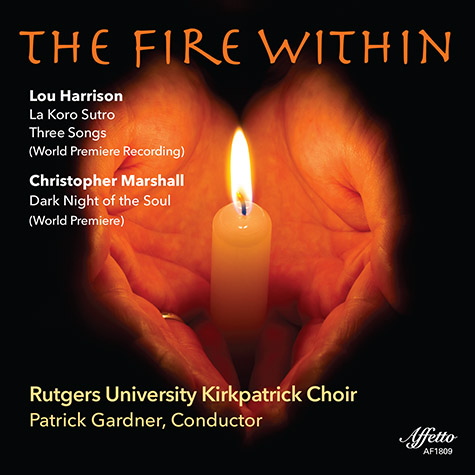 The Fire Within brings three works to light, one World Premiere Recording, "Three Songs for Men's Chorus" by composer Lou Harrison, and one a World Premiere, "Dark Night of the Soul" by composer Christopher Marshall, all performed by the internationally renowned Kirpatrick Choir of Rutgers University, New Brunswick, New Jersey, conducted by the equally renowned Patrick Gardner. The third work which begins the album, Lou Harrison's stirring "La Koro Sutro (The Heart's Soul)" is a vibrant and moving piece with the choir accompanied by The American Gamelan. La Koro Sutra, a live performance recording, was described by Anthony Tommasini in the New York Times "The Best of 2017 – Classical Music" as "…one of the best musical moments of the year."
Composer Lou Harrison had a life-long interest in the use of "found instruments" and those used in this recording appeared in his works of the 30s and 40s for percussion ensemble which he wrote while collaborating with John Cage. His later works were composed with highly chromatic music influenced heavily by Arnold Schoenberg. The 1971 piece featured here, La Koro Sutro, is a setting of the Buddhist Heart Suttra in Esperanto composed for an international congress of Esperanto speakers in San Francisco. The Three Songs for Men's Chorus, a World Premiere Recording, are settings from the Book of Samuel and Walt Whitman's "Calamus" in Leaves of Grass.
Finally, New Zealander Christopher Marshall's work, "Dark Night of the Soul," heard as a premiere recording, sets mystical text of St. John at the Cross with intricate rhythms of a beautiful lyrical melody with rich choral sonority. It is a perfect piece to end this extraordinary album.
Available Now at:
Apple Music | Amazon | Spotify