New Jersey Chamber Singers & Orchestra Reid Masters, conductor – Mozart Requiem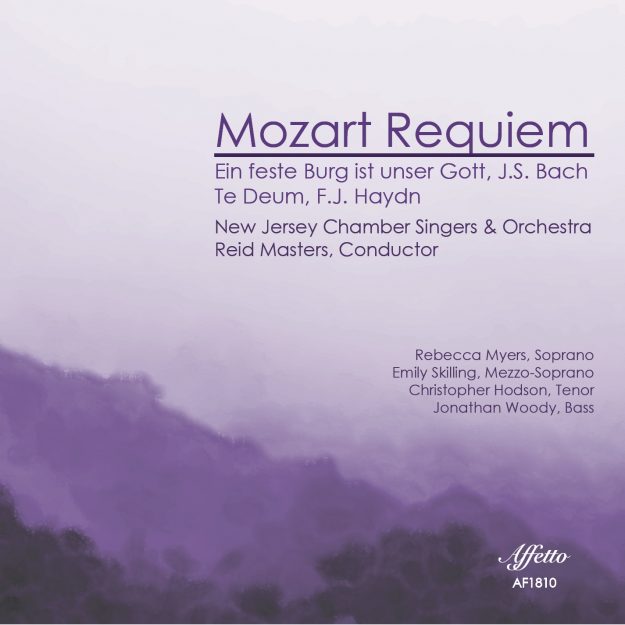 This live recording features the New Jersey Chamber Singers 40th Anniversary concert celebration. The program is anchored by the Mozart Requiem and also features festive works of Haydn's Te Deum  and Bach's Reformation Cantata, Ein feste Burg, because 2018 also marked the 500th anniversary of the Lutheran Reformation. While it is more common to hear these works performed by larger ensembles, this historically-informed performance honors the repertoire's intimacy by only employing 32 voices and a similarly sized orchestra.
All three pieces on this album were touched by hands beyond those of their composers. While many purists have worked extensively to cleanse iconic works of foreign elements, this performance embraces them. Bach's Ein feste Burg  proudly features the extra parts for three trumpets and timpani added by his son, Wilhelm Friedemann Bach. Haydn's Te Deum  was written for Empress Marie Theresa even though he was employed to write music for the Esterhazy court in Eisenstadt. Even though the complete autograph is lost, trombone parts were later discovered to have been written in the hand of his copyist, Johann Elssler. So, it is probable that Haydn delivered a large-scale work including three trombones and three trumpets to the Empress, even though he performed a slightly down-sized version of the same work in Eisenstadt to accommodate the orchestral forces available to him. This recording boasts all extant parts. Finally and most famously, Mozart's Requiem was completed by Süssmayr following his death in 1791.
This album honors a perspective in which early music is still a living art that is capable of change and worthy of exploration.
Available now at:
Apple Music | Amazon | Spotify