David Amram – So in America will be released on March 16, 2018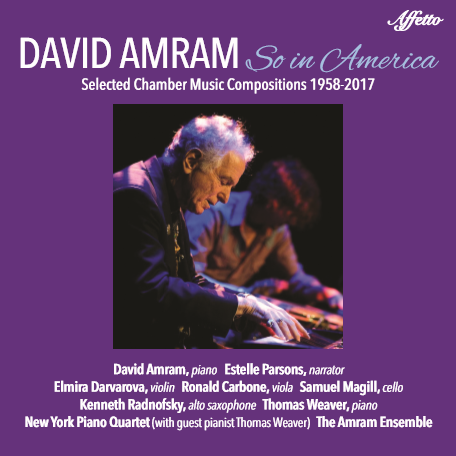 The phenomenon of legendary composer and multi-instrumentalist DAVID AMRAM defies easy definitions. Always ahead of his time in anything that he created, and immersed in jazz, folk, world music, film and theater music, as well as in contemporary classical music, he was praised by The Washington Post as "one of the most versatile and skilled musicians America has ever produced", while The Boston Globe hailed him as "the Renaissance man of American music", and The New York Times proclaimed him "multicultural before multiculturalism existed". Being first and being ahead of his time comes naturally to David Amram – a pioneer of the jazz French Horn who simultaneously amassed the highest number of performances of the Brahms Horn Trio, while fascinating the crowds at folk and world music festivals, writing several books, composing scores for films and plays, touring worldwide, collaborating with iconic figures like Jack Kerouac, Elia Kazan, Arthur Miller, Eugene Ormandy, Thelonious Monk, Charles Mingus, Dizzy Gillespie, Lionel Hampton, Johnny Depp, Hunter S. Thompson, Odetta, Bob Dylan, Willie Nelson, Betty Carter, Floyd Red Crow Westerman, Arlo Guthrie, Pete Seeger, Paquito D'Rivera and Tito Puente, and at the same time also making his mark as a celebrated prolific composer of classical music, having written over 100 works in the symphonic, operatic and chamber music genres. "Being first" also came into play when Leonard Bernstein appointed David Amram as the first ever composer-in-residence of the New York Philharmonic. Being "ahead of his time" also led David Amram to pioneer, together with Jack Kerouac, the first ever Jazz/Poetry readings in New York City in 1957. Amram's legacy is a huge collection of so many milestones and inroads, that have established him as not only one of the most eclectic composers of the 20th and 21st centuries, but also as a guiding light, role model and enormous source of inspiration for younger generations.
This album presents selected chamber music compositions written by David Amram between 1958 and 2017, and includes four world premiere recordings. The internationally-acclaimed performers – violinist Elmira Darvarova, saxophonist Kenneth Radnofsky, pianist Thomas Weaver, violist Ronald Carbone, cellist Samuel Magill, The New York Piano Quartet and The Amram Ensemble – all of them devoted champions of Amram's music, are joined on this album by David Amram who accompanies.
Available now at
iTunes
Amazon
More Details